In New Jersey, the Northeast Supply Enhancement (NESE) Project poses a serious threat to the health, safety & environment of residents, business owners, visitors and wildlife in and around:
Franklin Township (Somerset County) & nearby South Brunswick (Middlesex County),
Sayreville/Old Bridge (Middlesex County), and
the Raritan Bay.
Such facilities have been built on promises of safety and profits to the company, but it will be the local citizens who would bear the brunt of the damaging impact for generations to come.
Bayshore councils around the proposed Raritan Bay Loop passed resolutions opposing NESE in March & April 2019:  Aberdeen, Atlantic Highlands, Hazlet, Highlands, Holmdel, Keansburg, Keyport, Long Branch, Matawan, Middletown, Rumson, Sea Bright, and Union Beach.
Examples:  Monmouth County Freeholders (3/18/19) & Atlantic Highlands (4/22/19)
Join us as we ask our Local, State and Federal governments and regulatory agencies to stop this dangerous and unnecessary project.
---
TIMELINE OF REGULATORY PROCESS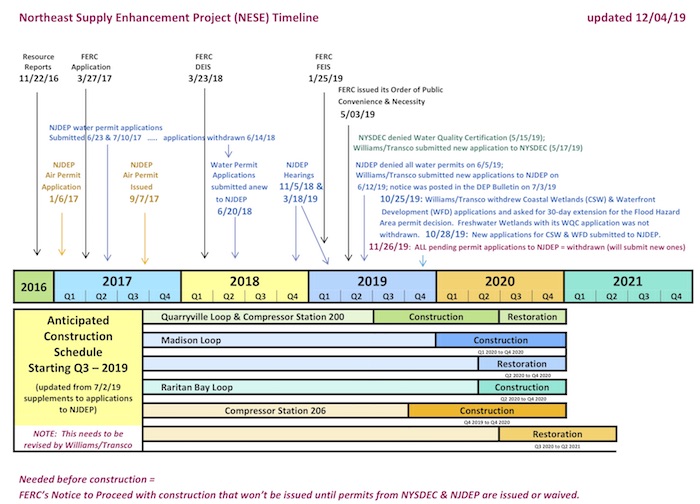 Above is the timeline for the NESE project that shows prior activity as well as anticipated future actions.
Check out the NJDEP denial letter (PDF)
LATEST RESOURCES
MOST RECENT LOCAL RESOLUTIONS
READ MORE FROM EASTERN ENVIRONMENTAL LAW CENTER AND PRINCETON HYDRO LETTERS REPORTS
5 IMPORTANT ISSUES
---
FEDERAL:
The NESE project has received their Certificate of Public Convenience & Necessity from FERC (May 3, 2019).
No comments to FERC will make a difference at this point!
STATES:
On October 25, 2019, Williams/Transco withdrew their June 14, 2019 applications for Waterfront Development with Section 401 Water Quality Certification & Coastal Zone Management Consistency, and they plan to reapply.  Williams/Transco also asked for a 30-day extension for a DEP decision on the Flood Hazard Area permit which was agreed to by the DEP, and the new deadline for a decision from NJDEP is November 28, 2019.

The NYSDEC conditionally denied the Water Quality Certification on May 15, 2019.  Williams/Transco submitted a new application to NYSDEC on May 17, 2019.

NJDEP denied all water permit applications on June 5, 2019 without prejudice, allowing Williams/Transco to submit new applications.   New applications were sent to the NJDEP on June 12,  2019.
---
TAKE ACTION
See ACTIONS TO TAKE page for more information and instructions on each of these important action steps.
---
MORE RESOURCES
Handouts to Print & Share
---